Introduction
Encapto Security via Cisco Umbrella: Flexible, fast, and effective cloud-delivered security
Cisco Umbrella offers flexible, cloud-delivered security when and how you need it. It blends multiple security functions into one solution; Umbrella is the easiest way to protect your users everywhere in minutes effectively.
Security summary
In the Security portal you'll be able to see the information about the network security events as below;
To view the Network security summary:
Log on to your account.

Navigate to Security;
In here

Network events scrutinised

Network events blocked

Network events allowed

Cloud Security
With Cloud Security, you can effectively manage your user's internet access through category-based content web filtering, and SafeSearch browsing enforcement.


Automatic Protection
This is automatically enabled to prevent malicious attacks on your network (e.g. Malware, Phishing and Ransomware) but does not replace anti-virus software.


SafeSearch
This is an automated filter of offensive content (e.g. pornography) that is built into search engines.
Major search engines provide SafeSearch filters that help to block explicit images, videos, and websites from search results. End users can easily turn off this feature within search engines, however, with Umbrella you can enforce this web filtering for Google, YouTube, and Bing. This ensures your users access only suitable browsing content.


To change the SafeSearch settings:
Log on to your account.
Navigate to Security
Scroll down to the SefeSearch section in Cloud Security
Toggle to the switch to enable/disable SafeSearch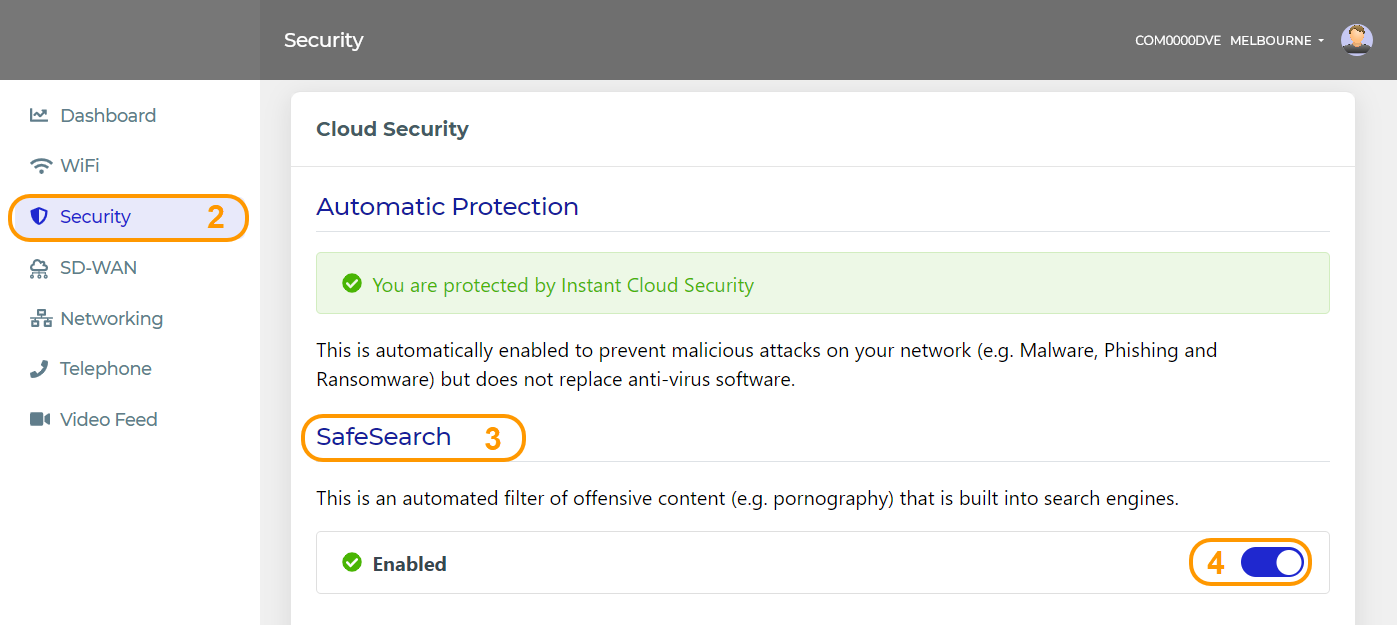 Content Filtering
With 80+ content categories covering millions of domains and billions of web pages, Umbrella gives you control over which sites can be accessed by your users.


To view and edit Content Filtering:
Log on to your account.
Navigate to Security
Scroll down to the Content Filtering section in Cloud Security
Click the Reset To Recommended Settings button to use Encapto's recommended blocked content
Click the delete button to delete a category from the blocked list




Click Add to add a new category to the block list
Search the category by typing the category name
Sort the categories

Ascending (a-z)
Descending (z-a)
Recommended

Select single or multiple categories
Click Save