Introduction
The Inventory Catalogue is a centralised master list of all the devices and services that your company provides to your customers.
Adding and storing your devices here allows you to quickly link them to products that you sell as plans or add-ons whenever you configure them.
This means you don't have to create a device (e.g. MR36) every time you want to link it to a new plan or add-on.
To see how to configure products, see our Product Configurator Guide.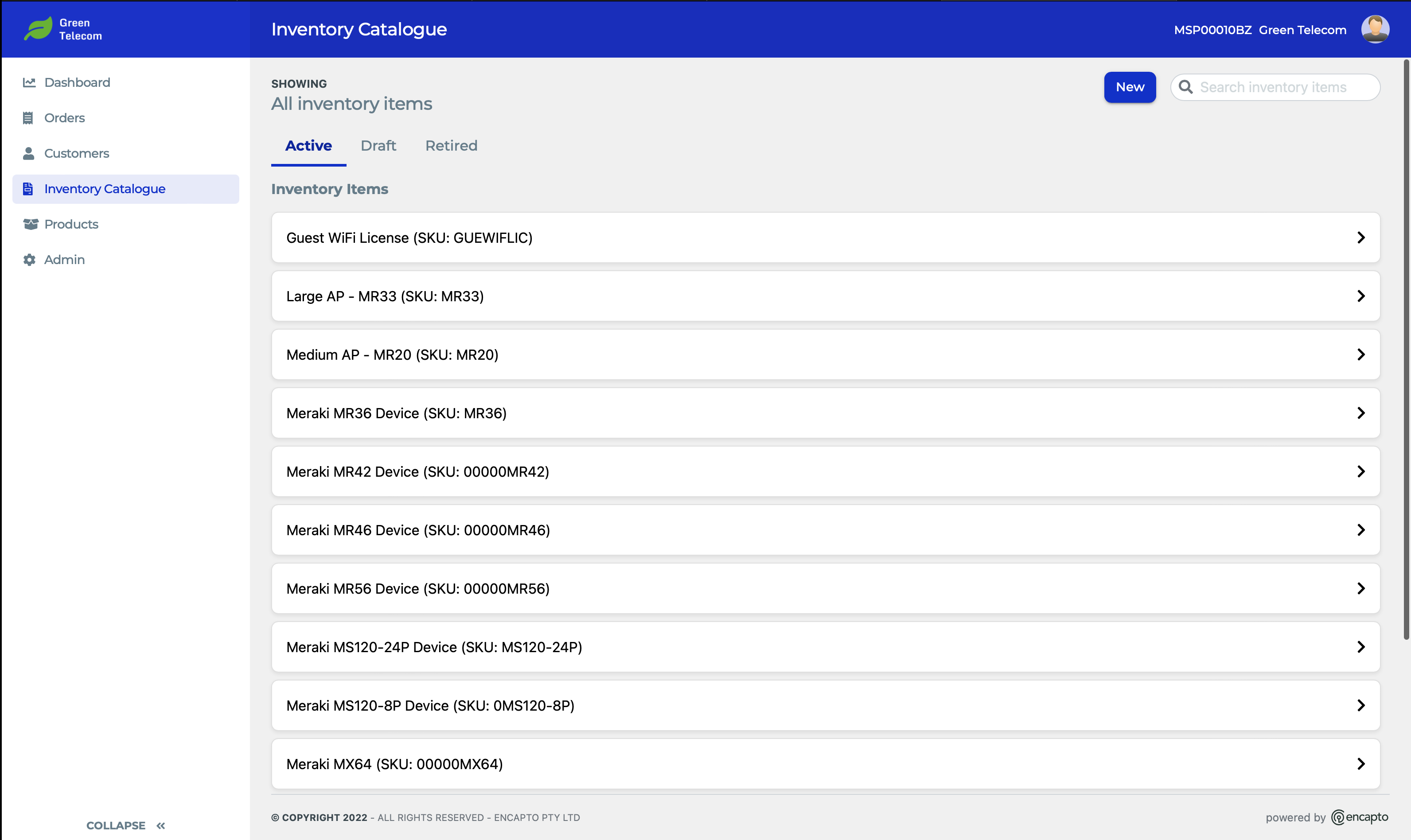 Inventory Item states and tabs
An inventory item can have three states: Active, Draft, and Retired - each with its own corresponding tab in the Inventory Catalogue section. We'll explain each below.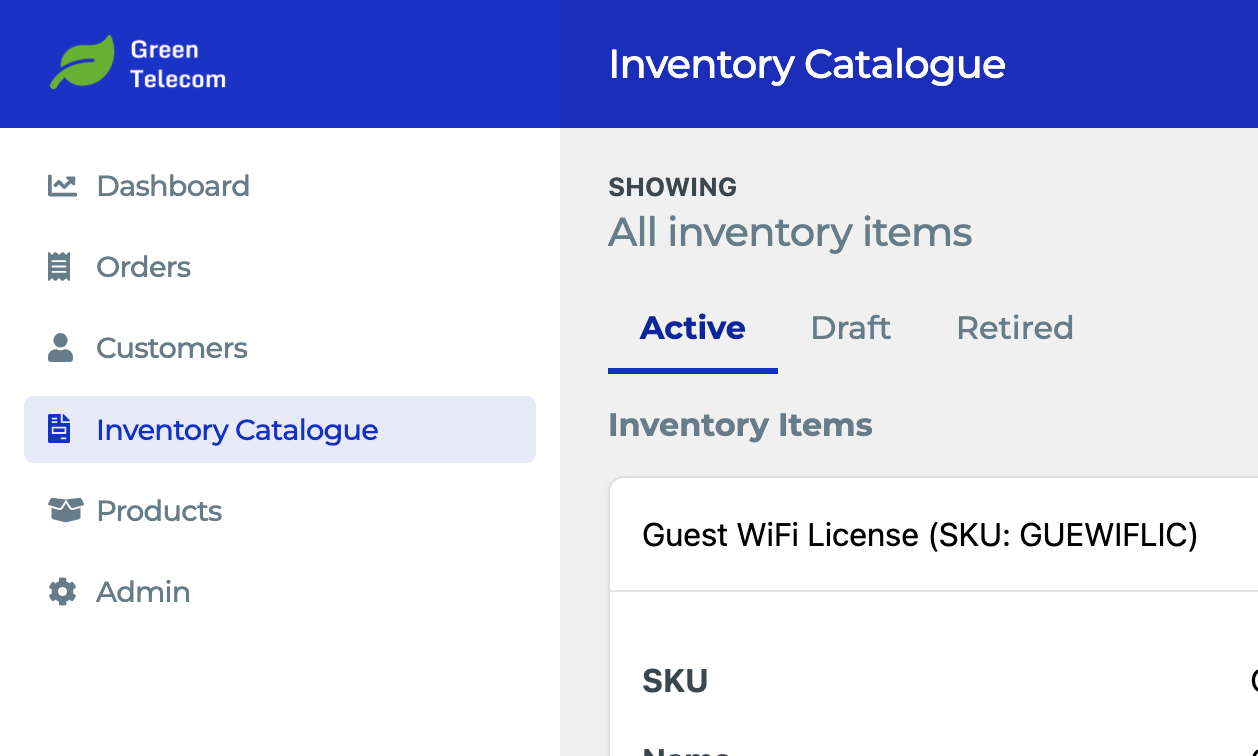 Creating a new inventory item
To create a new inventory item, select Inventory Catalogue from the main menu and click New. This will launch a pop-up modal where you fill in the relevant details for the item.
Only active inventory items will be available to link to your products.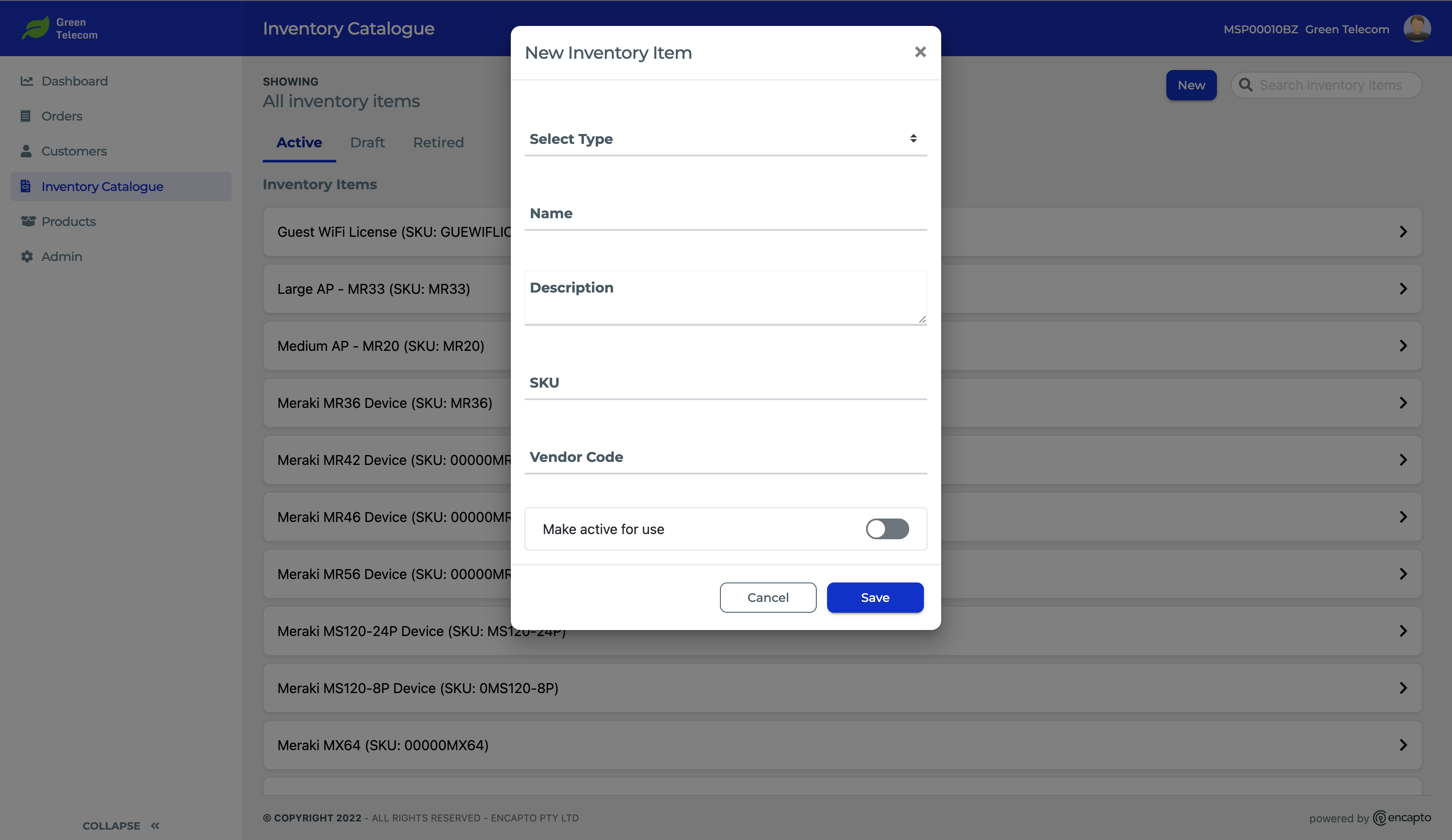 To make the item immediately active for use, make sure to toggle the Make active for use switch at the bottom and hit save.
Leaving this switch off will create the item and send it to your drafts, where you can decide to activate it later.
Remember: Only active inventory items will be available to link to your products.

Retiring an inventory item
An Inventory Item can't be deleted, but it can be retired. Deleting is permanent and can have unintended and irreversible consequences. Retiring is much safer.
A retired inventory item can't be linked to new products that you create. However, it will remain active for any existing live products that it is linked to, until those products are also retired. Any billing will continue as normal.
This means that retiring an inventory item won't impact customers who are still using that item for an existing plan or add-on.
To retire an inventory item, simply find the item in the Active tab and select Actions>Retire

Retired inventory items can be activated again by going to the Retired tab and selecting Actions>Activate

Draft Inventory Items
To create a draft item - follow the same steps as creating a new item but leave the Make active for use switch off.
Drafts allow you to create items without them being immediately active so they can be reviewed and activated at a more suitable time.
A draft can be edited, activated, or deleted by going to the Draft tab and selecting the Actions drop-down menu.