Encapto Powered NAS Gateways listed below are Mikrotik routers (configured via Encapto Clouddeck), providing a full suite of capabilities for connected WiFi user session management when used with the Clouddeck platform.
NAS capabilities differ in their connectivity options (ethernet ports and interface type) and in their suitability to handle different numbers of concurrently connected hotspot users.
The Mikrotik range functions as an inline gateway and can be managed from within Encapto. They provide layer three connectivity (DHCP, DNS, NAT, etc) and granular AAA session control for any WLAN vendor configured in layer two bridge mode.
The following table is a list of supported Mikrotik appliances with an indication of their physical properties and capability in terms of how many concurrently active hotspot clients each appliance will support.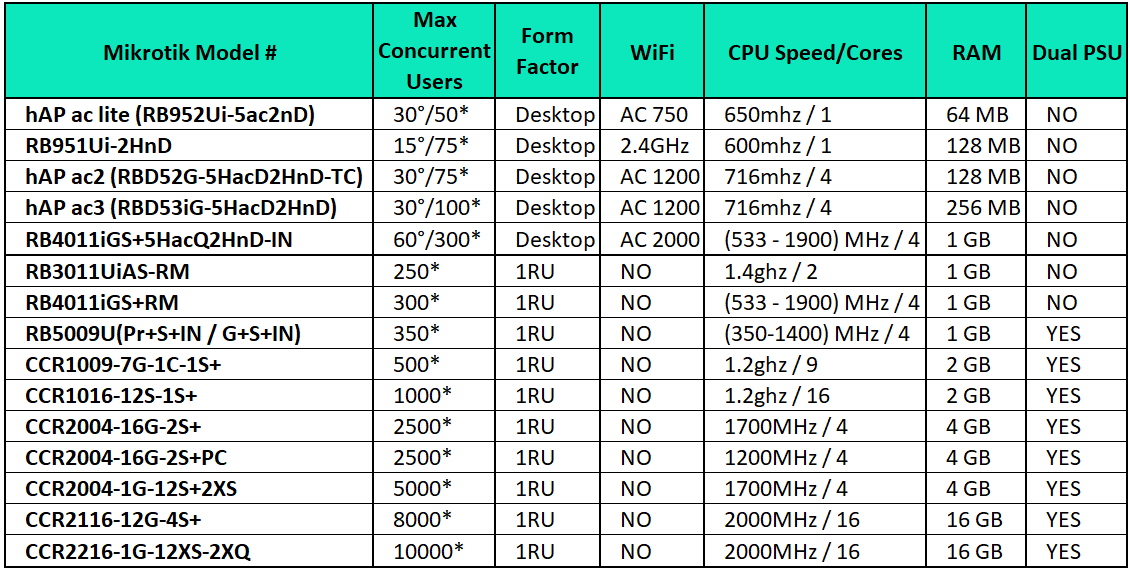 NOTE: Symbol denotes the following:
* - Concurrent users based on single hotspot setup with external wireless APs.
Note: The recommended number of concurrent user support will reduce when you run additional hotspots on the same appliance or use complex network settings with custom firewall/filter/mangle rules and QoS.
○ - The radio limitation restricts maximum concurrent users. We recommend a maximum of 15 connected WLAN clients per built-in WiFi radio.
High Availability (HA) can be configured on all rack-mounted Mikrotiks by adding a second unit (same model). The HA unit has no effect on the concurrent user count in the Encapto Master licence which is configured as active-passive.
Please take a look at the Mikrotik Integration Guide for how to configure a Mikrotik device.